Il n' y a pas mille façons d'avoir un coup de foudre. il y a juste mille façons d'en entendre parler.
Je vais vous faire découvrir et peut être vous donner envie d'acquérir le travail de peintres, de photographes dont la démarche artistique et créative me touche. Ces artistes j'en connais déjà quelques uns mais espère surtout en découvrir d'autres avec vous, au fil de mes rencontres inspirantes.
Le premier a faire un pas de géant dans cette galerie virtuelle est le peintre Pessoa.
A 49 ans, il est né à Paris mais vit et travaille à Besancon. Dans les années 2000,  il rentre au sein du groupe Anartiste de la fédération  anarchiste où il rencontre son ami le peintre et poète André Robèr qui lui fait découvrir l'art. Il collabore à la revue Art & Anarchie dans laquelle il apparait pour la première fois avec une série de poésies visuelles. Un art entre mot et image qu'il continue à travailler en participant depuis plusieurs années à la Biennale Internationale de Poésie Visuelle d'Ille s/Têt (66) ainsi qu'à la revue  #Nuire sous le pseudonyme d'Antonio Sá Poès.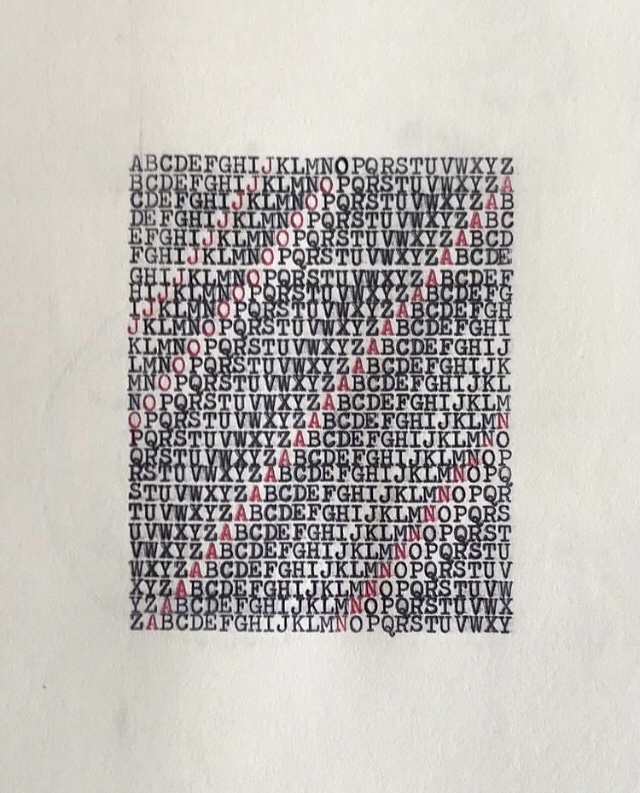 Cultivant sa marginalité en expérimentant comme bon lui semble, sa peinture est forte car sans code, hors norme. Intranquille par nature, il ne s'encombre de rien et peint d'abord pour lui même dans l'urgence d'exprimer ses angoisses, ses doutes, son ironie face à la vie. Tout prend forme dans le chao. La couleur est là pour nous permettre de respirer. Je suis fan de sa radicalité et de son hyper sensibilité qui donne à voir une peinture esthétiquement forte.
Refusant toutes les cases qui pourraient l'enfermer, il admet aux forceps, s'inscrire dans la mouvance de l'art brut et plus largement, l'art outsider. Il se place ainsi hors du système de l'art mais avec juste la volonté de créer sans la reconnaissance qui va avec et sans avoir la conscience d'être artiste.
Il  va falloir attendre 2020, pour qu'il accepte une collaboration avec deux esprits libres, Charles Dagand et Stéphane Planche, lesquels lui proposent de réaliser les étiquettes de l'ensemble de leurs cuvées de vin vivant, Karnage.
Il expose pour la première fois en Mai 2022 lors d'une exposition collective avec Didier Manyach et Sophie Pluen à la galerie TREIZE à Ille sur Têt (66).
En Juillet, il est invité par le plasticien Joseph Maureso dans le cadre d'une œuvre participative  « De l'Enfouissement à la résistance » à l'espace des Arts Le Boulou (66) à collaborer avec les peintres André Robèr et Gilles Olry. Il réalisera et exposera deux œuvres.
Présent en résidence dans le Jura à Arbois aux Jardins de Saint Vincent, une exposition lui est également consacrée au Bistrot des Claquets du 6 Septembre au 26 Novembre 2022.
J'ai également la chance de pouvoir vous proposer son travail dans le Shop Galerie du site. Qui aime possède un peu.
Mais il est temps de tendre l'oreille pour le découvrir au travers de cette interview réalisée chez moi à l'occasion de son exposition. Pour la petite histoire, je devais retranscrire l'enregistrement de nos échanges mais j'ai tellement adoré la vulnérabilité et l'authenticité de ce moment que j'ai proposé à l'artiste de le diffuser sous ce format audio. On y entend les bruits de la maison, du chien, des tasses de thé, mes tournures de phrases peu académiques, mes rires et ses silences, les noms des artistes qui nous échappent, la voix d'André Robèr, le son de John Cage, Coltrane, Tricky ou encore de Sleaford Mods. On y parle de la vie, on prend le risque de l'intime, simplement, Entre nous.
Je remercie Antonio Sá Poès pour cette parenthèse de bonheur quand je sais combien il est un peu sauvage et ne tient pas à s'exprimer beaucoup. Il aime vivre caché. Pour être heureux sans doute.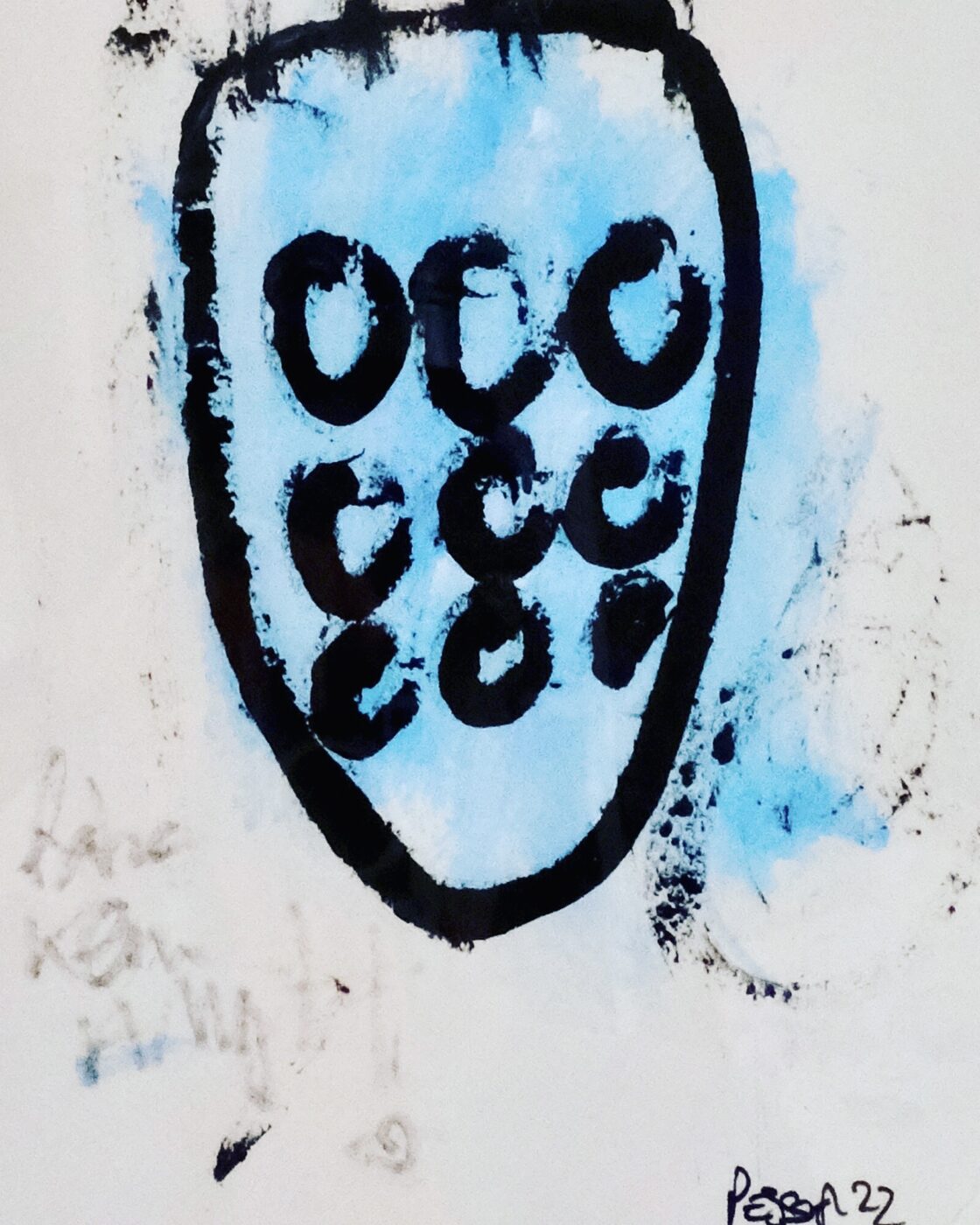 There are not a thousand ways to fall in love at first sight. There are just a thousand ways to hear about  it.
I will make you discover and why not acquire the work of painters and photographers whose artistic and creative approach touches me. I already know some of these artists but I hope to discover others with you.
The first to take a giant step in this virtual gallery is the painter Pessoa.
He is 49 years old and was born in Paris but lives and works in Besancon. In the 2000s, he joined the Anartiste group of the anarchist federation where he met his friend, the painter and poet André Robèr, who introduced him to art. He collaborates with the magazine Art & Anarchie in which he appears for the first time with a series of visual poems. An art between word and image that he continues to work on by participating for several years in the International Biennial of Visual Poetry of Ille s/Têt (66) as well as in the magazine #Nuire under the pseudonym of Antonio Sà Poés.
Cultivating his marginality by experimenting as he sees fit, his painting is strong because it is without code, outside the norm. Not quiet  by nature, he is not encumbered by anything and paints first of all for himself in the urgency to express his anguish, his doubts, his irony in front of life. Everything takes shape in the chaos. The colour is there to allow us to breathe. I am a fan of his radicalism and his hyper-sensitivity which gives us an aesthetically strong painting.
Refusing all the boxes that could confine him, he admits to forceps, to be part of the movement of art brut and more widely, outsider art. He thus places himself outside the art system but with just the will to create without the recognition that goes with it and without having the awareness of being an artist.
It wasn't until 2020 that he agreed to collaborate with two free spirits, Charles Dagan and Stéphane Planche, who asked him to design the labels for all of their living wine vintages, Karnage.
He exhibited for the first time in May 2022 in a group show with Didier Manyach and Sophie Pluen at the TREIZE gallery in Ille sur Têt (66).
In July, he was invited by the artist Joseph Maureso to collaborate with the painters André Robèr and Gilles Olry in a participative work entitled "De l'Enfouissement à la résistance" at the Espace des Arts in Le Boulou (66). He will produce and exhibit two works.
Present in residence in the Jura in Arbois at the Gardens of Saint Vincent, an exhibition is also dedicated to him at the Bistrot des Claquets from September 6 to November 26, 2022.
I am also lucky enough to be able to offer you his work in the Shop Galerie of the site.
But it's time to listen to this interview with him, which was conducted at my home on the occasion of his exhibition. For the record, I was supposed to transcribe the recording of our exchanges but I loved the vulnerability and authenticity of this moment so much that I suggested to the artist that we broadcast it in this audio format: we hear the sounds of the house, the dog, the cups of tea, my unacademic turns of phrase, my laughter and his silences, the names of the artists who escape us, the voice of André Robèr, the sound of John Cage, Coltrane, Tricky or Sleaford Mods. We talk about life, we take the risk of intimacy, simply, Between us.
I would like to thank Antonio Sa Poes for this interlude of happiness when I know how wild he is and how he doesn't want to express himself much. He likes to live hidden. To be happy, no doubt.